Organization: Kids, Cameras, Conservation
Location: Namibia, Zimbabwe
Service Work: Teaching indigenous children about conservation photography
"I know from experience that when you become emotionally connected with your subject, you create a reason to care about it – whether it's a person, a place, or an animal."
— Sherry Paul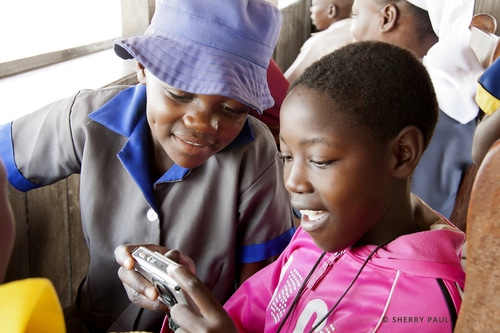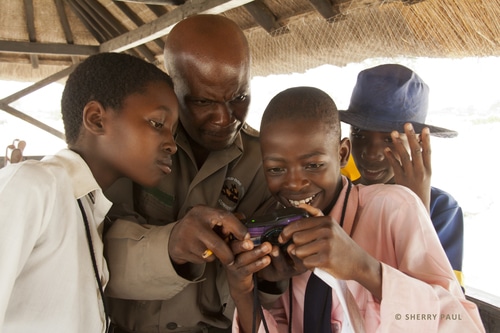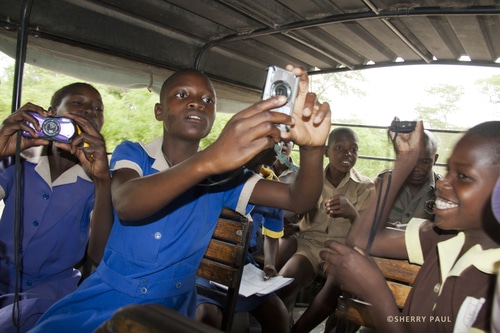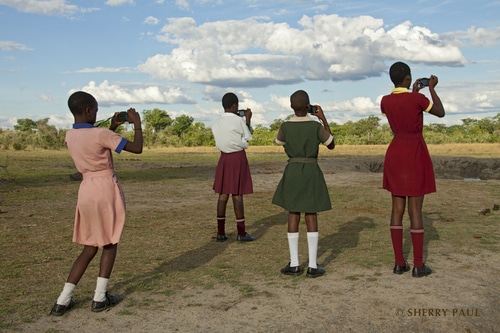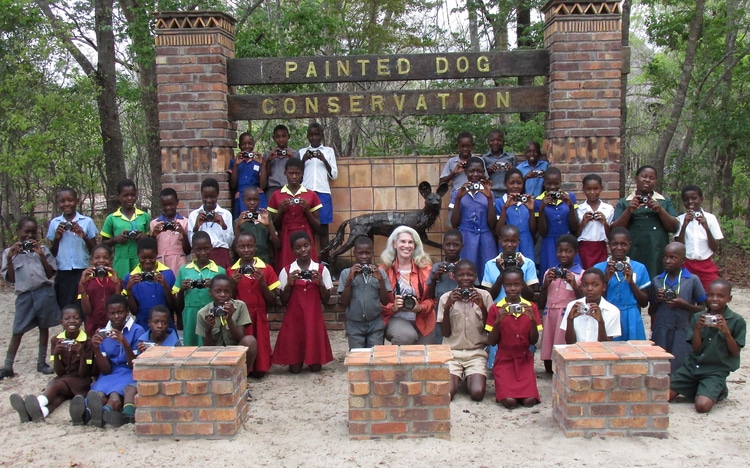 A New Perspective
Sherry Paul – Class #287
Cameras and photography are completely new to the African children Sherry Paul teaches, but it isn't long until they start taking selfies.
"Some things are universal," Sherry said.
The ITMI alumna and Mill Valley, Calif., resident founded Kids, Cameras, Conservation in Zimbabwe in 2013. The program aims to teach indigenous children about conservation photography so they can learn to appreciate and respect the value of their own environment.
During her travels in Africa, Sherry observed that most conservation photographers there are Westerners who capture wildlife shots, then sell the images back home.
"I realized very little of this money ever goes back to help Africans and I began to wonder why there were no local conservation photographers on a continent that was so resplendent in photographic opportunity," Sherry said.
Most of the kids Sherry instructs during the week-long program are middle-school age. Through her connections with two projects – Painted Dog Conservation in Zimbabwe and the Cheetah Conservation Fund in Namibia – she's reached about 120 kids to date during the organizations' bush camp programs.
"I know from experience that when you become emotionally connected with your subject, you create a reason to care about it – whether it's a person, a place, or an animal," Sherry said. "And because of my passion for wildlife conservation, I wanted to help in any way I could to instill a love for nature in the people who will be responsible for its long-term sustainability – the African communities."
A generous Painted Dog Conservation donor from California initiated an online crowd-funding campaign to raise money for 40 cameras. Support for the project from around the globe ballooned, enabling Sherry to buy twice as many for her students to use.
After editing the children's photos, Sherry uses them to make greeting cards, which she sells back home to raise money for the program.
At the beginning of the class, the children learn the importance of conservation photography as well as basic skills – lighting, composition, and how to hold and operate the camera. After they've shot bugs, leaf patterns, lion prides, and landscapes, Sherry downloads and edits the images. On the last day, students get to compare their first photos to their last to see how much their work has improved. Each student's two best images are printed so he or she can show family and friends.
"My goal is to expand the program into other countries by teaching photography to the bush camp teachers who can then instruct the children, and then find ways to sustainably fund an ongoing supply of cameras," Sherry said. "My dream is that, one day, in about 10 years, one of the kids I've taught will be teaching the Kids, Cameras, Conservation class."