At ITMI, we believe that travel is the passport to peace in our world. 
We believe that when we expand our perspectives of people, places, and cultures, we deepen our connection, compassion, and appreciation for all that is around us.
The way we elevate travel and expand perspectives is by identifying and training world leaders and ambassadors of goodwill who bring travelers, history, and unforgettable experiences together. 
We partner with global travel companies to create meaningful career opportunities for these leaders to make a positive impact. 
To prepare these leaders for their journey, we provide world-class training programs, a family-like community, and ongoing career support so they can be successful in pursuing their dreams and making a difference.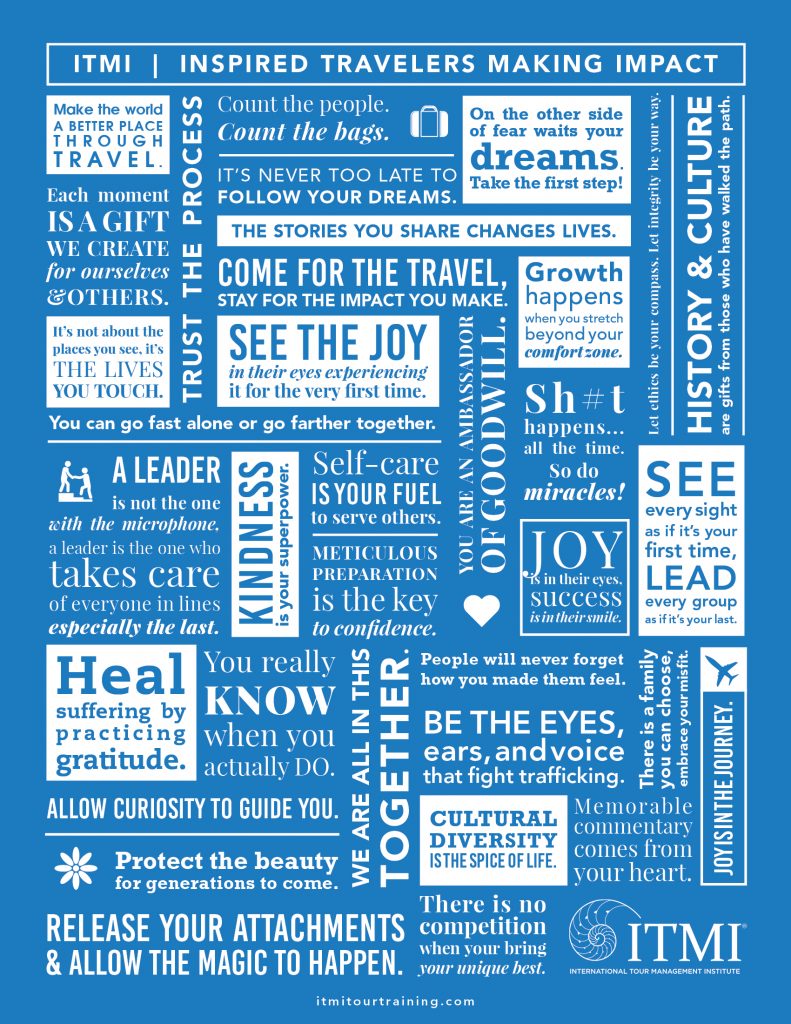 ITMI Gives You The Edge In The Industry
Receive training from experienced leaders and mentors, all of whom are active tour directors. The ITMI faculty provides you real-world, hands-on, practical applications in both the classroom and the field. You will learn everything you need to know to begin living your dream as a tour director or guide.
Many leading tour operators only hire ITMI graduates because our courses provide the best hands-on experience and training in the industry. 
ITMI past graduates talk about the ITMI Family at ITMI's 2018 Symposium, an annual event where ITMI alumni have an opportunity to network with leading industry professionals, tour operators and past alumni; refresh their skills, take part in social events and more.
As a graduate of ITMI, you become part of the world's largest network of professional tour guides and directors, industry partners and operators. As an ITMI alumni, you are eligible to attend our five-day Annual ITMI Symposium, for advanced learning sessions, destination knowledge, networking and employment opportunities with both your colleagues and a wide variety of ITMI Tour Operator partners. As a graduate of ITMI, we partner with you for the entirety of your career — your success is our success.  
As tour directors and guides you make a difference by creating cultural bridges of understanding every day.
You are Ambassadors of Goodwill. Your stories inspire through your various roles as stewards of the environment and how you give back to your local community, help you generate awareness of issues affecting our global community, and make a better world.
We celebrate the spirit of volunteerism, community service, and global stewardship demonstrated by our dedicated alumni. We are proud to count these caring individuals among our more than 8,000 amazing graduates living around the world. Their human rights, disaster relief, poverty assistance, environmental protection, and many other efforts are truly an inspiration to us all.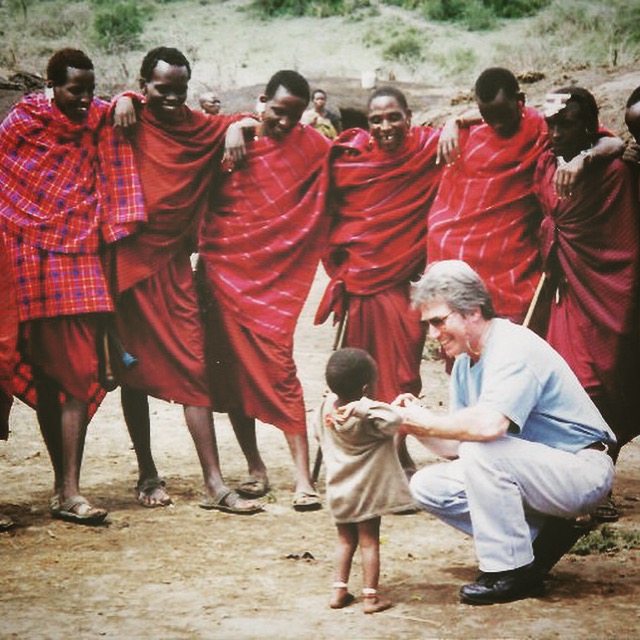 ITMI Alumni Miriam on the joy of storytelling and unexpected places.
Alumni Michael Ruggieri sharing his success story and what brought him to ITMI.
Alex Bayless shares what brought him to ITMI and how much he has gained since taking the ITMI Tour Director / Tour Guide program.
Socially Responsible and Environmentally Conscious Tourism
All of our courses include training in socially-responsible and environmentally-conscious tourism. ITMI supports Tourism Cares, a non-profit organization dedicated to the preservation of landmarks and historic sites for future generations.
We are also a signatory to The Code, a tourism industry initiative to protect children from sex trafficking and sex tourism.
We are proud to say we were the first Travel and Tourism school to include education about human trafficking awareness in its curriculum, provided in partnership with Human Thread.
ITMI continually strives to expand its reach within the tourism industry and beyond to support initiatives that address the environmental and humanitarian challenges of our time. We are proud to be a part of a movement of people who are inspired to make a difference in the world as agents of peace and transformation.
As an ITMI Tour Directors and Tour Guides, you will have a unique opportunity to become ambassadors of goodwill, to demonstrate respect for other cultures and traditions, and for the environment.
Founding Signatory of the Future of Tourism Coalition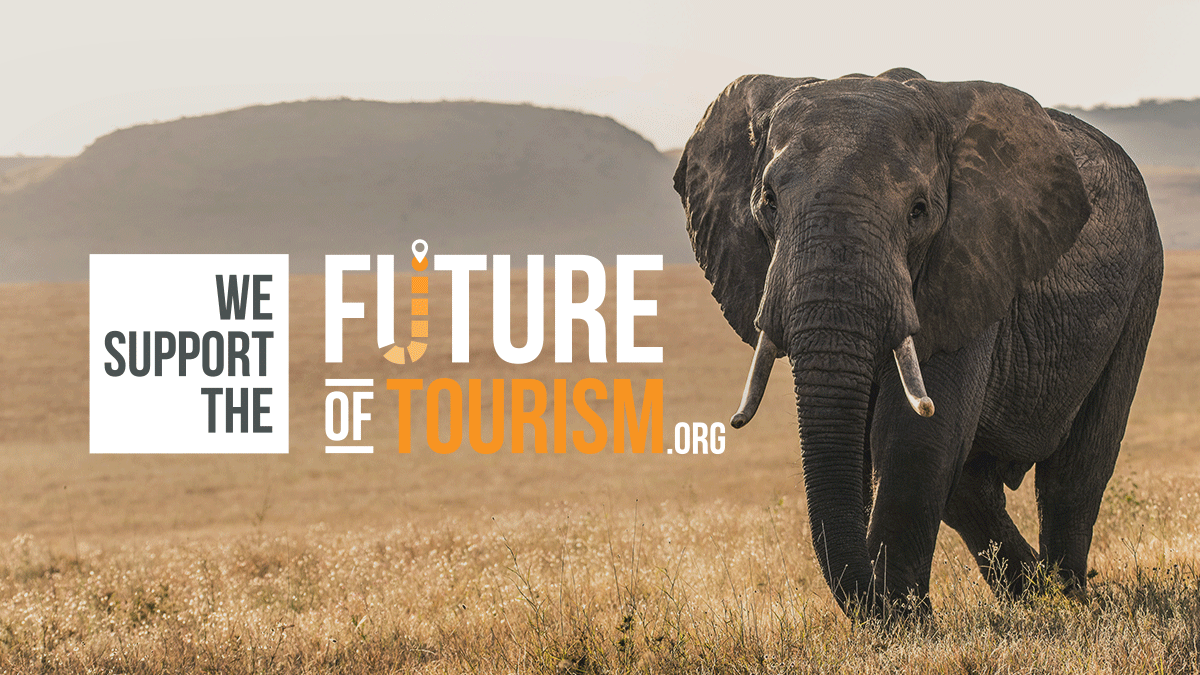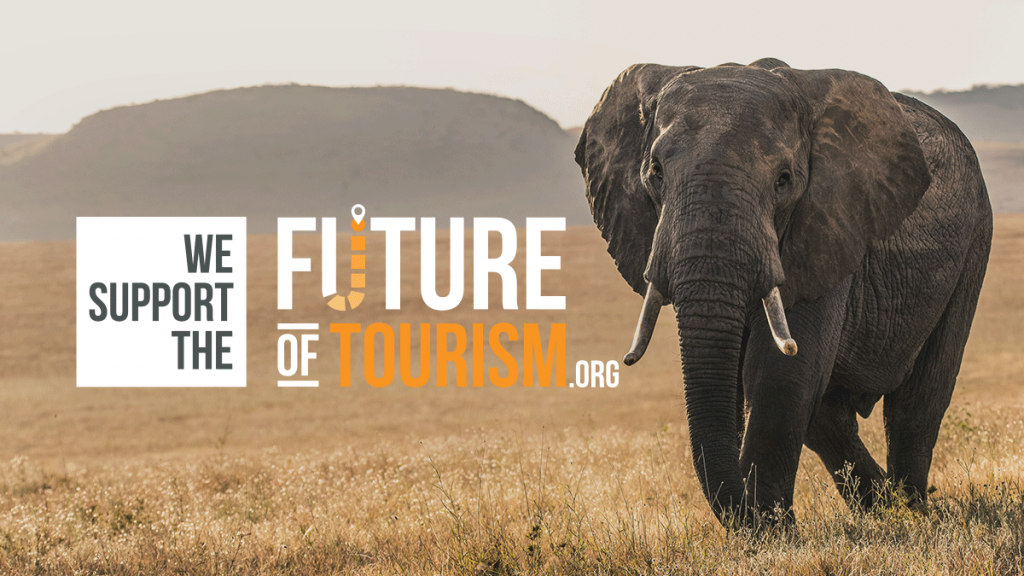 We're proud to be a Founding Signatory of the Guiding Principles put forth by the newly formed Future of Tourism Coalition! These transformative principles outline a bold vision for the future of tourism – one that retains the integrity of destinations, promotes inclusivity and equality, maximizes positive impacts for communities and environments, and fosters collaborative change. As a Founding Signatory, we commit to align our recovery strategies with these principles and lead the way to a better future for all. Learn more at www.futureoftourism.org #FutureofTourism
While you may find other shorter programs or online courses, ITMI knows that hands-on training and in-person learning from leading industry experts are the top reasons behind our students' success.
We know that in order to be successful in this industry, you cannot learn how to manage a tour from a computer screen and be effective in the field. We know that by immersing yourself in our two-week curriculum, you have a greater cohesive knowledge and understanding of what it takes to be a tour director or tour guide.
And finally, we know that the intensive training that ITMI has developed prepares you for the career of your dreams.
And we aren't alone. Many tour operators in the industry will only hire ITMI graduates because of the industry-leading education and experience our graduates received while taking our Tour Director and Tour Guide program.